Alabama Hair Transplants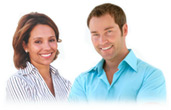 Hair transplants are an effective and permanent solution for men and women with bald spots or areas of thinning hair. In contrast to the pluggy look of the past, the Birmingham, Alabama Hair Transplant Surgeons at Hedden Plastic Surgery use the latest microsurgery techniques to create a uniform appearance and natural-looking results for our hair restoration patients.
Today's gold standard for permanent hair restoration is Follicular Unit Transplantation. During this outpatient procedure at our accredited on-site surgery suite, individual follicular units – consisting of one to four hair follicles – are taken from donor areas (usually the back and sides of the head) and relocated to balding or thinning areas. Virtually all of the transplants survive for most patients and grow hair for a lifetime after entering a new growth phase in a few months.
Hair transplantation is an individualized procedure – Alabama hair transplant surgeon Dr. William Hedden plans a specific approach for each patient using their artistic vision and carefully listening to your goals for hair restoration. Dr. Hedden is a member of the International Society of Hair Restoration Surgery (ISHRS).
Please feel free to contact the Hair Transplant Surgeons at Hedden Plastic Surgery at 205-980-1744 or  if you would like to set up a Hair Transplant Consultation at our Birmingham, Alabama offices and surgery center.