Dr. William Hedden Named 2013 LEAD Surgeon
Select plastic surgeons chosen to help guide future of breast implants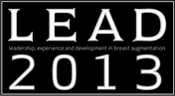 William J. Hedden, M.D., of Hedden Plastic Surgery was recently selected to join a prestigious group of board-certified plastic surgeons who will assist in molding the future direction of breast augmentation. Dr. Hedden will again join Mentor Worldwide's LEAD Advisory Board for 2013, which provides the breast implant manufacturer with clinical perspectives on a wide range of topics from some of the top plastic surgeons in the United States.
Leadership in Breast Augmentation
Mentor's LEAD Program Advisory Board comes together each year to discuss new products, programs and innovations in breast enhancement. "LEAD" stands for Leadership, Experience and Development in Breast Augmentation.
Members of the advisory board are chosen for their extensive experience in plastic surgery as well as their leadership and reputation in breast augmentation and breast aesthetics. As practicing plastic surgeons, board members are in a unique position to provide feedback that enables Mentor to tailor its products to meet high standards for beauty and safety.
"It's very exciting to be able to share knowledge that is used to benefit breast surgery patients and shape the future of cosmetic surgery," Dr. Hedden said. "The LEAD program is an excellent way to bridge the gap between the manufacturers of breast enhancement products and the patients who want and deserve the best available techniques and breast implants."
Founded in 1969, Mentor Worldwide LLC develops and manufactures innovative, science-based aesthetic products around the world, including saline, silicone and ultra cohesive breast implants. Mentor's breast implants are FDA-approved for use in both breast augmentation and breast reconstruction.
Dr. Hedden's appointment to the LEAD Program Advisory Board is a testament to the expertise and hard work of the entire staff at our Birmingham, Alabama Cosmetic Surgery Center.
Please contact us today to work with board-certified plastic surgeon William Hedden, M.D. on reaching your dreams with breast augmentation, breast lift, breast reduction, liposuction, tummy tuck, rhinoplasty or any of our other popular procedures.