Are You Ready for a Skin Miracle?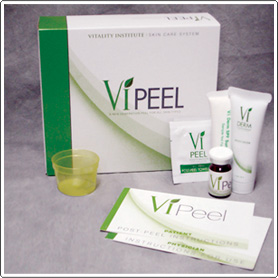 Finally! A medical skin peel that is painless, very effective and suitable  for all skin types. We are now offering the gold standard in facial peels. The Vi Peel is helping to ultimately achieve "true repair' for their patients without hindering their fast paced lifestyle. Of course, with Vi Peel at Spa Greystone and other medical grade facial peels comes many questions and concerns about "downtime."
Vi Peel FAQ's
Q: I Did A VI Peel On The Body But I'm Not Peeling, Why?
A: The skin on the body starts peeling slower than the face; usually starting around days 4-7 post VI Peel and taking up to 10 days or more to complete. Also just because a patient doesn't peel in sheets, doesn't mean the peel is not working. If a person does exfoliate often their skin may not peel heavily. Body parts usually flake versus heavy peeling as well. The peel is still working at the cellular level impacting collagen and elastin bringing new skin to the surface. Also the degree of peeling is affected by many factors and varies by individual including skin preparation, application method and products currently being used by patient. Does this person use retinol products on a regular basis, etc. We recommend you check back over the next 5 days to monitor the peeling process.
Q: How Well Does The VI Peel Work On The Body?
A: Body peeling varies in both timing and amount of exfoliation. Typically we see the process take longer and not be as prominent as the face. Peeling may take 10-14 days to start. So patience is key. Also, with this treatment you may see the skin become worse before clearing as the oils are brought to the surface. Also for best results, a series of peels would be suggested along with Complete Care Acne as a topical.
Q: How Many Times A Year Can A Person Have A VI Peel Done?
A: If a series is recommended, the VI Peel is suitable to receive every 4-6 weeks as directed by your Practitioner. Your Practitioner will be able to create your own unique skincare plan for your skincare needs. You can also have the VI Peels quarterly/seasonally and receive four (4) peels a year for the maintenance of healthy skin.
Q: Can I Peel The Skin That Is Hanging During The Peeling Process?
A: No. Never pull back on the skin that is shedding. It is recommended to use a small cuticle scissor to trim the exfoliating skin. You can also go and wash the face to help gently remove the hanging skin. If washing the face multiple times a day, be sure to add moisture back to the skin by applying the Post Peel Protectant or coconut oil. You also must use the VI Derm SPF 50+ to protect the skin during and after the exfoliation process.
Q: I Feel As Though I Am Very Dry During Or After My Peeling Process. Is There Anything Else I Can Use?
A: It is recommended to use Aquaphor or coconut oil once the peeling has begun if you are extremely dry (starting day 3-4).
Q: What Ages Are Recommended For The VI Peel?
A: The youngest age suggested for the VI Peels is around 12 to 13 years old and can go all the way through mature age ranges. It is always best to check with your medical practitioner to see if you are a good candidate for the VI Peel.
Q: How Many Days After A Peel Can I Start Exercising?
A: You need to refrain from activities that raise the body temperature significantly and can induce sweating for 72-96 hours (3-4 days). Inducing excessive perspiration/sweating may cause blistering or post inflammatory hyperpigmentation in the skin.
Q: When Will I Stop Peeling?
A: In general, you receive the peel on day one (1) and start peeling on or around day three (3). Every peel can be different, but in general you can expect peeling during days 3-7 days. Peeling may last additional days for some individuals. Body peeling tends to take a little longer for the peeling process to occur, and peeling can occur during days 3-10.