SmartLipo Named Best for Body Contouring
Minimally-invasive liposuction treatment permanently destroys fat cells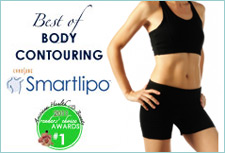 For the third year in a row, SmartLipo laser-assisted liposuction was named the Top Body Contouring Procedure in the 2011 American Health and Beauty Readers' Choice Awards. SmartLipo is a revolutionary body sculpting procedure that uses laser energy to melt stubborn deposits of fat that are then gently suctioned away. This minimally-invasive treatment also firms and tightens the skin by stimulating the production of collagen.
SmartLipo Laser Body Sculpting is ideal for getting rid of pesky areas of fat that resist reduction with exercise and dieting. The procedure is frequently recommended for the love handles, abdomen, upper arms, thighs, neck and other trouble areas. In general, the best candidates for SmartLipo are men and women who are in good health and exercise regularly, but are bothered by localized fat deposits and are motivated to eliminate them permanently.
Smartlipo Laser Liposuction at Hedden & Gunn Plastic Surgery
Hedden & Gunn Plastic Surgery has been accorded the honor of being named a teaching facility for SmartLipo. Our skilled, experienced cosmetic surgeons perform the procedure using a tiny cannula, or tube, that has a laser fiber inside. The precise laser energy permanently destroys fat cells with the added benefit of boosting collagen production for tighter skin. Another SmartLipo advantage is that the laser coagulates blood vessels, which minimizes bleeding during the treatment.
SmartLipo is considered to be a minimally-invasive body contouring treatment. You will be given a local anesthetic which numbs the area to be treated. SmartLipo keeps post-op swelling and bruising to a minimum, allowing most patients to return to their normal activities almost immediately.
If you would like to schedule a consultation for SmartLipo Laser Body Sculpting or any of our Body Contouring procedures in Birmingham, Alabama, please call 205-980-1744 or email our Alabama Cosmetic Surgery Center today.