Alabama Plastic Surgeon Honored for Breast Leadership
Dr. William Hedden named to LEAD Advisory Board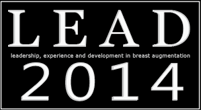 Board-certified plastic surgeon William J. Hedden, M.D. from the Birmingham, Alabama practice of Hedden & Gunn Plastic Surgery was chosen for the prestigious LEAD Program Advisory Board for 2014. Dr. Hedden met with other renowned plastic surgeons from throughout the United States Nov. 7-9, 2014, in Dallas to assist breast implant manufacturer Mentor Worldwide in shaping the future of breast aesthetics.
"It's an honor to once again participate in the LEAD program and help to develop the technology that will be a strong asset for our patients," said Dr. Hedden. "As practicing plastic surgeons, we represent the perspectives of both our practices and women who will benefit from innovations in the field of breast enhancement."
Leading Experts in Breast Augmentation
Each year, an exclusive nationwide group of plastic surgeons is invited to participate in the LEAD program. The surgeons are selected for their extensive experience, patient-focused approach and demonstrated expertise in plastic surgery and breast augmentation. LEAD stands for Leadership, Experience and Development in Breast Augmentation.
The LEAD Program Advisory Board holds an annual meeting to explore ideas and provide clinical perspectives on the future of breast enhancement technology. Board members are encouraged to provide recommendations that will enable Mentor's products and programs to meet the highest standards for safety and beauty.
Mentor, a global maker of aesthetic products, has manufactured breast implant devices for more than 20 years. The company's breast enhancement offering include MemoryGel, MemoryShape and Saline breast implants.
Breast Augmentation at Alabama Cosmetic Surgery Center
With personal attention throughout your procedure and a strong emphasis on patient education, Hedden & Gunn Plastic Surgery is one of the Southeast's leading centers for Breast Augmentation and the latest cosmetic surgery procedures. To schedule your complimentary consultation with Dr. William Hedden or Dr. Stephen Gunn at Greystone Cosmetic Center in Birmingham, Alabama, please call 205-980-1744 or contact us by email today.