Dr. Hedden Named RealSelf Top Doctor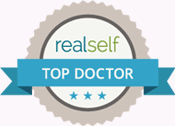 Dr. William J. Hedden has been named a Top Doctor on RealSelf.com. Dr. Hedden was recognized for empowering patients with reliable information about many different topics related to cosmetic surgery.
RealSelf Top Doctor status is awarded to a select group of doctors who have demonstrated an ongoing commitment to answering consumer questions and are transparent about their level of service by encouraging their patients to post unbiased reviews and ratings.
In recognition of high patient ratings and favorable feedback on their contributed expertise, Dr. Hedden joins less than 10% of the RealSelf doctor community by being awarded Top Doctor status.
About Dr. Hedden
Dr. William Hedden is a board-certified plastic surgeon who is dedicated to each patient's total care and well-being. Dr. Hedden has earned a national reputation as an expert and innovator in the art and science of plastic surgery.
About RealSelf
RealSelf.com is the world's largest community for learning and sharing information about cosmetic surgery, dermatology, dentistry and other elective treatments. The site features large collections of reviews, photos and doctor Q&As.