#NEWTOX is here!
Jeuveau is the new botulinum toxin injection for frown lines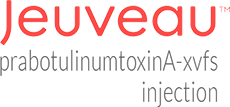 Dynamic wrinkles that form between the eyebrows can be a frustrating part of the aging process. Now there's a new option for smoothing the frown lines between the brows that can make us look tired or angry.
Jeaveau, also called #NEWTOX, is approved by the FDA to temporarily improve the appearance of frown lines between the eyebrows. Jeuveau is the first botulinum toxin product to enter the market in almost a decade and the only one developed strictly for aesthetic purposes.
Jeuveau or NEWTOX is similar to BOTOX Cosmetic and Dysport in that the injection relaxes the muscles that cause moderate to severe frown lines (glabellar lines). Please call 205-980-1744 today to make your appointment for Jeuveau, the latest botox option at Hedden & Gunn Plastic Surgery for restoring a younger look.