Post-Pandemic Plastic Surgery Sees Growth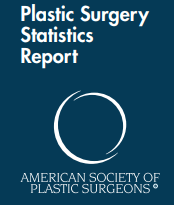 Looking at a post-pandemic world compared to data from 2019, the American Society of Plastic Surgeons (ASPS) has seen significant growth in the number of procedures performed overall. Patients are no longer putting off the procedures they have been considering, which may be attributed to more time spent working from home and the flexibility that hybrid work schedules offer patients for recovery.
Face and Neck Take Focus
Patients often enhance their appearance beginning with the face and the neck, the features they first see in the mirror. Certain trends and behavior during COVID contributed to the latest plastic surgery trends; masks made eyes the main focal point of the face for almost a year, which likely contributed to a surge in the number of eyelid surgeries, making it the fourth most popular cosmetic surgery procedure in 2022. The past year also saw an 8% rise in facelift procedures and a 150% increase in cheek implants.
Body-Centric Procedures Remain Prominent
Post-COVID weight fluctuations resulted in an increase in both surgical and nonsurgical procedures, with a 23% rise in liposuction and a 77% rise in noninvasive fat reduction procedures compared to 2019.
"Board-certified plastic surgeons are able to provide a number of options, both surgical and minimally invasive, for patients to feel their best after lifestyle changes that have impacted their weight," said ASPS President Dr. Gregory Greco. "ASPS member surgeons can work with patients to create a personalized solution that prioritizes safety and promotes efficacy."
Breast augmentation remained a popular cosmetic surgical procedure as a close second to liposuction, while breast lifts earned the fourth spot with a 30% rise since the onset of the pandemic. A surge in patient demand for cosmetic breast reductions – up 54% compared to 2019 – points to a broader trend of individuals valuing both comfort and aesthetics.
Social Media Influences Trends and Perception
Since the onset of the pandemic, there has been a steady rise in transparency as patients have been more open to sharing their plastic surgery journeys on social media, which contributed to an increase in certain procedures. Lip augmentation with fillers secured a spot in the top five most sought-after minimally invasive treatments for the first time, and buccal fat removal procedures also rose. While this particular surgery was not tracked in 2019, there were more than 4,500 procedures in 2022.
"With the rise of social media, we've noticed plastic surgery has become less stigmatized as people share their experiences or interest in certain procedures," said Dr. Greco. "Board-certified plastic surgeons are able to help patients determine whether a procedure is right for them and can offer guidance along the way, keeping the patient's safety and well-being at the forefront."
Source: American Society of Plastic Surgeons