Celebrating 10 Years of BOTOX Cosmetic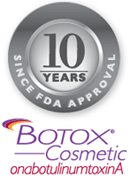 Botox was approved in 2002 to treat frown lines
The year 2012 marks 10 years since the U.S. Food and Drug Administration (FDA) approved BOTOX Cosmetic to temporarily improve the look of moderate to severe frown lines between the brows in people ages 18 to 65. A decade ago, this approval made headlines because it was a new treatment for vertical frown lines between the eyebrows. In 2002, 24% of people thought Botox was a fad — today, BOTOX Cosmetic is the No. 1 prescribed physician-administered, minimally-invasive aesthetic treatment in the United States. (1)
Botox was first approved by the FDA more than 22 years ago for therapeutic use, making it the first botulinum toxin type A product in the world to be approved. Since 1989, Botox has been recognized by regulatory authorities worldwide as an effective treatment for 25 different indications in approximately 85 countries, benefiting millions of patients worldwide.
Since BOTOX Cosmetic was FDA-approved in 2002, the number of women considering talking to their doctor about treatment with Botox has grown from 1.3 million to 5.8 million. There have been approximately 11 million treatments in the United States over the past decade. And many patients today are open about their decision to be treated. About 61% of women say they are very willing to reveal to a friend that they have been treated with BOTOX Cosmetic.
In addition to approximately 21 years of clinical experience, the safety and effectiveness of BOTOX Cosmetic have been well-established in approximately 65 clinical trials and in approximately 15,000 patients treated with BOTOX and BOTOX Cosmetic in clinical trials conducted by Allergan, Inc. With approximately 2,300 articles on BOTOX and BOTOX Cosmetic appearing in scientific and medical journals, BOTOX neurotoxin is one of the most widely researched medicines in the world.
To learn more about injections with BOTOX Cosmetic or popular wrinkle fillers at Hedden Plastic Surgery & Spa Greystone, visit BotoxVIP.com or call 205-980-1744 or 1-800-HeddenMD to schedule your appointment.
Botox blocks the nerve signals that make muscles contract
Those vertical lines that appear between the eyebrows are the result of muscle contractions. When people squint, frown or concentrate, the muscles between the brows contract, causing the skin to fold and furrow. After years of contracting, these wrinkles can linger even after the muscles are at rest.
BOTOX Cosmetic works by temporarily blocking overactive nerve impulses that trigger excessive muscle contractions or glandular activity. After being injected, Botox diffuses locally and temporarily reduces the muscle activity that causes moderate to severe vertical frown lines to appear. Results last up to four months, but may vary for individual patients. Patients will see results within 24 to 48 hours and may notice a softening in the appearance of the frown lines between the brows. The area may continue to improve for up to a month.
Although the results are visible, treatments with BOTOX Cosmetic will not radically change your facial appearance or make you look as if you've "had work done." The muscle activity that causes frown lines between the brows is temporarily reduced, so you can still frown or look surprised without the wrinkles and creases between the brows.
Side effects associated with Botox injections include localized pain, infection, inflammation, tenderness, swelling, redness and/or bleeding/bruising. Please see BOTOX Cosmetic Important Safety and Prescribing Information.
1 All figures in this article are data from Allergan, Inc., the makers of BOTOX Cosmetic
What's the difference between Botox and dermal fillers?
BOTOX Cosmetic and dermal fillers are used for different things. Botox is injected into the underlying muscles where the vertical frown lines appear between your eyebrows. Dermal fillers are used to restore volume in the lower part of the face where wrinkles appear around the mouth, along the sides of the chin and around the lips. These wrinkles result from a loss of volume and referred to as static wrinkles because they appear even when the face is at rest.