Glowing Skin with Laser Skin Resurfacing
Also known as a laser peel, Laser Resurfacing is a proven rejuvenation treatment for facial skin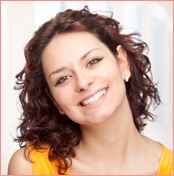 Laser Skin Resurfacing is a minimally-invasive treatment used to reduce the appearance of facial wrinkles and skin irregularities to give your skin a vibrant, youthful glow. When laser light is directed upon irregular skin, the damaged skin is removed layer by layer, allowing fresh new skin to form and stimulating collagen production. You may be an ideal candidate for laser resurfacing if you have fine lines or wrinkles around the eyes, the mouth, the forehead, or facial blemishes such as age spots or acne scars.
Sun damage, heredity, repetitive muscle movements and even your diet can contribute to facial lines and wrinkles that form as time goes on. These include smile lines, crow's feet, forehead lines and lines around the mouth. The skin can also lose its smooth, youthful appearance due to skin irregularities such as discoloration, acne marks, sun damage and other imperfections.
According to the American Society of Plastic Surgeons, 466,238 Laser Skin Resurfacing treatments were performed in 2011, a 9% increase from the previous year.
Laser Skin Resurfacing at Spa Greystone & Laser Center
Our Certified Laser Technicians in Birmingham, Alabama are experienced in providing minimally-invasive laser treatments that deliver long-lasting results. Laser resurfacing can be performed on people of any age. The best results are usually seen for people with healthy skin and fair complexions.
The FDA-approved lasers at Spa Greystone allow for accurate and precise control over the depth of the laser beam as it penetrates into the skin. This allows us to customize your laser treatment based on the extent of the wrinkles or skin damage.
Contact Spa Greystone today to learn more about safe, effective and convenient laser resurfacing treatments that rejuvenate the skin and diminish the effects of sun, aging and irregular facial skin.
Laser Skin Resurfacing procedure
During laser resurfacing treatments at Spa Greystone, a beam of laser light heats the skin, stimulating the formation of new collagen and causing the outer layers of skin to peel away. The new collagen improves both the structure and elasticity of the skin. As healing takes place, bright new skin develops to give your face a smoother, firmer and more youthful complexion.
The treated area will be thoroughly cleaned prior to the beginning of your Laser Skin Resurfacing treatment. A topical or local anesthetic is used, and a sedative may be provided to help you stay comfortable and relaxed. General anesthesia may be administered if your laser treatment will be extensive or performed in conjunction with another cosmetic surgery procedure, such as a Facelift or Eyelid Surgery.
Depending on the extent of your treatment, laser resurfacing usually takes from 1 to 2 hours. Eyewear will protect your eyes from the intense beam of light that is produced by the laser.
Laser Skin Resurfacing results
Following your laser resurfacing treatment, an ointment may be applied to your face to protect it during the initial healing stages. In this case, you will need to continue to apply the ointment for about a week. You can begin to use cosmetics in approximately 10 to 14 days following the procedure.
In the first few days after your treatment, you may experience minor pain and swelling. Your face may exhibit a fine crust and a reddish appearance for about 2 to 3 weeks. The redness indicates that the body's natural healing process is taking place and new collagen is forming in the skin.
While most redness will start to fade in about a month, it's not uncommon for your skin to be slightly red for up to 3 or 4 months. While the skin remains red, it is very important to protect it from sun exposure with a sunscreen of SPF 15 or higher.
The final results from your laser treatment may take up to several months as you notice an improvement in your skin tone and texture as the redness fades. It's important to know that Laser Skin Resurfacing doesn't prevent your skin from aging and that new lines and wrinkles will gradually form over time. However, depending on factors such as the extent of your treatment, your skin type and the condition that is treated, the results from a Laser Skin Resurfacing procedure may last for several years.