Jewel Named Breast Reconstruction Spokesperson
Singer/songwriter joins international effort to increase awareness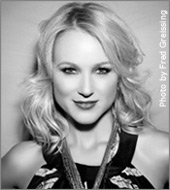 Many women who have bravely battled breast cancer and had life-saving surgery must also grapple with the question, what's next? That's why the United States and 20 other countries are joining an international effort to increase awareness about options for Breast Reconstruction after having a mastectomy. The initiative, which was announced by the American Society of Plastic Surgeons (ASPS) and The Plastic Surgery Foundation (The PSF), will feature award-winning recording artist, actress and philanthropist Jewel as its main spokesperson.
The goal of the initiative is to promote education, raise funds for research and improve access to women who are eligible for post-mastectomy breast reconstruction. October 17, 2012, will be the first annual National Breast Reconstruction Awareness (BRA) Day, designed to ensure that all breast cancer patients are fully informed of their surgical options and supported by a team of medical professionals.
Jewel will advocate on behalf of National BRA Day through media appearances and public service announcements in the coming months. She has written a new song to recognize breast reconstruction patients and will perform at a concert on October 29 in New Orleans during the ASPS's annual meeting. Event proceeds will be donated to The PSF and used to support national and local breast reconstruction organizations.
Birmingham, AL Breast Reconstruction at Hedden Plastic Surgery
More than 180,000 women in the U.S. are diagnosed with breast cancer each year, and many choose Breast Reconstruction to restore a more natural appearance after one or both breasts have been removed with a mastectomy. Unfortunately, research has revealed that 70% of women who are eligible for breast reconstruction are not informed about their options.
Breast reconstruction using breast implants or the patient's own tissue effectively restores the breast shape, allowing women to regain their attractive curves and emotional well-being. Alabama Board-Certified Plastic Surgeon and ASPS Members William J. Hedden, M.D., and J. Stephen Gunn, M.D., personalizes the treatment plan of each breast reconstruction patient to meet her own personal needs. Please call 205-980-1744 to make your consultation appointment and learn more about your options.