More Men Opting for Cosmetic Surgery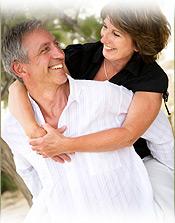 Increases in Nose Reshaping, Eyelid Surgery, Botox, Laser Hair Removal seen among men
With an eye toward social and professional success, more men of all ages and from all walks of life are embracing cosmetic plastic surgery procedures and their potential for improvement. Cosmetic surgery has gone mainstream in the past decade and men are increasingly comfortable about taking action to boost their appearance. Though still less than women, the number of men who seek cosmetic surgery for the face and body continues to grow every year, according to data from the American Society of Plastic Surgeons.
Whether their goal is a rejuvenated facial appearance, a trimmer physique or a more proportionate and shapely nose, many men today are motivated to deal with the things they don't particularly like when they look in the mirror.
"With the high value our society places on looking young and fit, we are seeing more and more men who are turning to cosmetic surgery," said Dr. William J. Hedden, board-certified plastic surgeon in Birmingham, Alabama. "More men want to achieve their best possible appearance and do something positive for themselves."
Dr. Hedden also mentioned shifting attitudes toward cosmetic surgery and today's competitive job market as reasons more men are seeking enhancement with cosmetic surgery.
Top Cosmetic Surgery procedures for Men
The American Society of Plastic Surgeons (ASPS) each year releases comprehensive data on cosmetic and reconstructive plastic surgery trends in the U.S. Acccording to the ASPS's Plastic Surgery Statistics Report for 2011, cosmetic procedures for men rose 6% over the previous year for a total of 1.2 million procedures.
The Top Cosmetic Surgical Procedures for men last year were nose reshaping (rhinoplasty), eyelid surgery (blepharoplasty), liposuction, male breast reduction and facelift. Among Cosmetic Minimally-Invasive Procedures, leading the way were Botox, laser hair removal, microdermabrasion, chemical peels and soft tissue fillers.
Birmingham, Alabama Male Cosmetic Surgery
With a high level of expertise in the latest surgical and nonsurgical male cosmetic surgery procedures, Hedden Plastic Surgery & Spa Greystone has the solution that's right for you. Board Certified Plastic Surgeon William J. Hedden, M.D., offers years of experience and unmatched patient care for both men and women at our Birmingham-Hoover, AL plastic surgery center. To schedule your consultation for Alabama Cosmetic Surgery, please call (205) 980-1744 or email our friendly staff today.