CoolSculpting Appears in Best Health Magazine
Editor tries the world's No. 1 non-invasive fat reduction procedure
What's a girl to do to get ready for bathing suit season? For the editor-in-chief of Best Health Magazine the answer was CoolSculpting after trying the non-invasive fat reduction procedure that's taking the media by storm.
CoolSculpting is one of her favorite finds among products and procedures to tone up a jelly belly, banana roll beneath the buttocks and even a double chin. Originally used on the abdomen and flanks, CoolSculpting is now cleared by the FDA for treating visible fat bulges on many different parts of the body.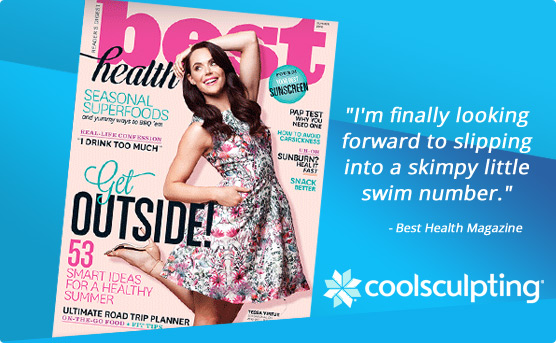 CoolSculpting at Spa Greystone
The experienced Birmingham, Alabama CoolSculpting technicians at Spa Greystone get to know your specific needs for body contouring and work with you on your individualized plan. CoolSculpting freezes away unwanted fat without surgery or downtime. Thanks to the CoolSculpting procedure, more than 3 million people worldwide are getting a better view of themselves in the mirror.