Get the CoolAdvantage at Spa Greystone
Next generation of CoolSculpting technology adds comfort, reduces treatment time
Now you can contour your body with shorter treatment times and greater comfort than ever before. The new CoolAdvantage applicator at Spa Greystone is part of the next generation of CoolSculpting treatment technology that features a larger cooling area and enhanced cup design for freezing away unwanted fat.
CoolSculpting is the FDA-cleared body contouring treatment that helps both women and men get rid of those stubborn bulges. A non-surgical procedure that uses controlled cooling to eliminate fat without surgery or downtime, CoolSculpting is the No. 1 non-invasive fat-reduction procedure in the world.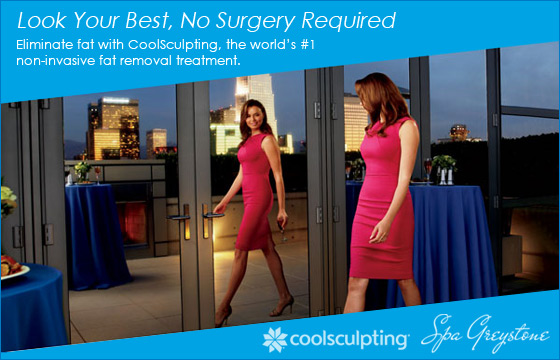 Shape what you see with the new 35 minute treatment
With 35 minutes treatment cycles, the CoolAdvantage applicator cuts the time required for CoolSculpting treatments at Spa Greystone by almost half. Patients also report more comfort as they read, check messages or just sit back and relax during treatments at our luxury medical spa in Birmingham, Alabama. Call us today at 205-980-1744, ext. 2 to schedule your consultation!