Gastric Balloon Wins 2016 RealSelf Award
ORBERA Weight Loss Balloon named 'Most Worth It' for bariatric patients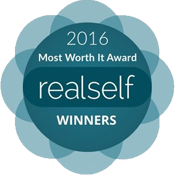 The ORBERA Gastric Balloon was named the winner of the RealSelf "Most Worth It" Award for 2016 in the Bariatric Treatment category. Celebrated as this year's most effective weight loss treatment based on reviews from real consumers, the gastric balloon received last year's highest customer satisfaction rating of all weight loss procedures reviewed on RealSelf.
RealSelf allows consumers to leave reviews about their experiences and deem the procedure or treatment as "worth it" or "not worth it." ORBERA weight loss patients have shared stories of their success on this popular online cosmetic surgery resource to help other potential candidates find the right procedure for them.
Discover weight loss that really works
Patients with the ORBERA Gastric Balloon in Birmingham, Alabama have met their weight loss goals with this simple outpatient procedure. Since the gastric balloon is non-surgical, there are no incisions or stitches and patients at Hedden & Gunn Plastic Surgery are left without scars. On average, people lose three times more weight with ORBERA compared to diet and exercise alone.