2019 Plastic Surgery Statistics
Breast augmentation tops list of most popular cosmetic surgery procedures
Breast augmentation was again the top cosmetic surgical procedure last year and minimally-invasive facial rejuvenation procedures continued their growth, according to the 2019 Plastic Surgery Statistics from the American Society of Plastic Surgeons (ASPS).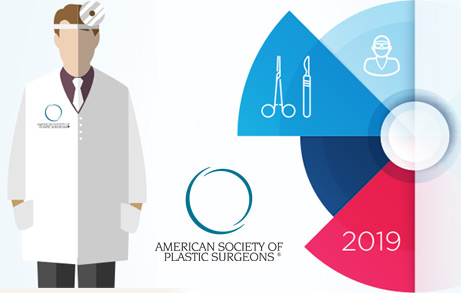 Top 10 Cosmetic Surgical Procedures
While ASPS anticipates a decrease in total number of cosmetic procedures in 2020 due to the COVID-19 pandemic, the Society forecasts a strong demand for treatments as practices reopen for in-office procedures. The number of cosmetic surgical procedures remained steady in 2019 versus 2018 with 1.8 million surgical procedures performed.
The Top 10 cosmetic surgical procedures performed in 2019 were:
Breast augmentation (299,715 procedures)
Liposuction (265,209)
Eyelid surgery (211,005)
Nose reshaping (207,284)
Facelift (123,685)
Tummy tuck (123,427)
Breast lift (113,188)
Dermabrasion (77,366)
Neck lift (54,852)
Breast reduction (46,340)
Top 5 Cosmetic Minimally Invasive Procedures
Minimally invasive cosmetic procedures grew at a slightly higher rate than surgical procedures in 2019. The total number of procedures increased for the third year in a row. The year 2019 marked the highest number of botulinum toxin type A injections to date with more than 7.69 million injections. Facial rejuvenation procedures are not showing signs of slowing down in 2020.
Among the 16.3 million cosmetic minimally invasive procedure performed in 2019, the top 5 were:
Botulinum toxin type A (7.69 million procedures)
Soft tissue fillers (2.72 million)
Chemical peel (1.38 million)
Laser hair removal (1 million)
Intense pulsed light (IPL) treatment (685,755)
Top 5 Reconstructive Procedures
Almost 6 million reconstructive procedures were performed in 2019. Tumor removal is by far the most common reconstructive procedure with approximately 4.4 million procedures performed.
The Top 5 Reconstructive Procedures performed in 2019 were:
Tumor removal (4.4 million procedures)
Laceration repair (249,171)
Maxillofacial surgery (207,862)
Scar revision (181,132)
Hand surgery (141,139)
Breast reconstruction saw a significant 5% jump, a greater increase than any of the top five reconstructive procedures.
Source: American Society of Plastic Surgeons (ASPS)