Dr. William Hedden Named Among Best Plastic Surgeons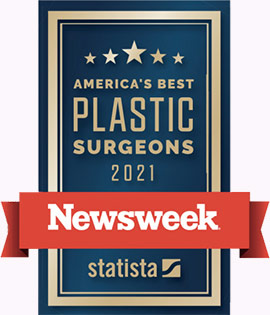 Newsweek has named William J. Hedden, M.D. one of America's Best Plastic Surgeons for 2021. A board-certified plastic surgeon who practices in Birmingham, Alabama, Dr. Hedden has years of experience performing cosmetic plastic surgery procedures for the breasts, body, face and skin.
"This recognition was earned by our incredible staff and our shared commitment to the care and results of each patient," Dr. Hedden said. "To see our passion for their well-being rewarded with this honor is both humbling and deeply satisfying to us all."
Dr. Hedden was ranked by Newsweek following a national survey of plastic surgeons. These doctors were asked to evaluate other plastic surgeons for the quality of their work in several different procedures — Breast Augmentation, Liposuction, Facelift and Rhinoplasty. The survey is part of Newsweek's effort to provide its readers with information to make informed healthcare choices.
Dr. William Hedden uses his experience and expertise to help patients feel more beautiful at any age with the latest options in aesthetic surgery. His dedication to natural results and the highest level of patient care have culminated in Newsweek's recognition of Hedden & Gunn Plastic Surgery as one of the nation's leading Breast Augmentation practices.
"I am truly blessed to be able to do what I love," said Dr. Hedden. "Beautiful cosmetic surgery results can resonate throughout every aspect of your life and inspire confidence in everything you do. Each of our patients is treated with the utmost compassion and respect as we work together to bring out their natural beauty within."
Dr. Hedden began his training at the University of Florida, followed by studies at the University of South Florida College of Medicine, Louisiana State University Medical Center and the University of Alabama at Birmingham. Today he is a member of the American Society of Plastic Surgeons, the American Society for Aesthetic Plastic Surgery and other prestigious professional organizations.