miraDry for Underarm Sweat and Odor
If you are stressing over sweat, you're not alone. The number of Americans who suffer from excessive sweat and/or hyperhidrosis is estimated to be 37 million. Fortunately, miraDry is the no sweat, no stress way to dramatically reduce underarm sweat and odor in as little as one non-surgical treatment at Hedden & Gunn Plastic Surgery.
FDA-cleared miraDry produces immediate and lasting results. Once your miraDry treatment eliminates the underarm sweat and odor glands, they're gone for good.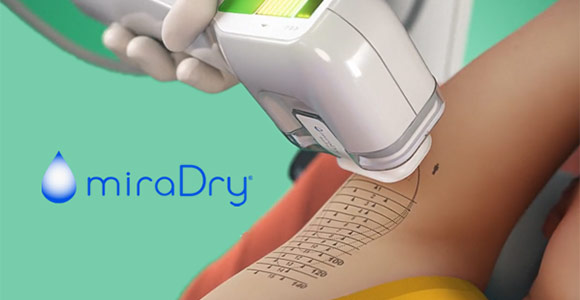 Thermal energy targets sweat glands
miraDry is a simple but effective treatment that can be completed in as little as 1 hour. First your underarms are numbed with local anesthesia to ensure maximum comfort. Your skin is then marked and the area is treated with miraDry.
The miraDry System uses thermal energy that targets and eliminates the sweat and odor glands in your underarms. Suction gently lifts the skin and glands toward the miraDry device for maximum results. The energy breaks down the sweat glands, which are naturally eliminated from the body. The distribution of heat is managed by software while the skin's surface is protected with cooling.
Most patients describe the procedure as painless with little to no downtime.
miraDry stops underarm sweating
Everyone needs to sweat, but not from your underarms. Approximately 2 to 4 million sweat glands are located throughout your body. Your underarms only contain about 2% of these sweat glands. Following your Birmingham, AL miraDry, treatment, you will experience the many benefits of dry underarms and continue to perspire normally elsewhere.
Goodbye sweat stains
miraDry offers a permanent solution for people who are bothered by underarm sweat, tired of stains on their clothing, and want to feel more dry and confident in any weather. miraDry is clinically proven to reduce sweat by an average of 82% and reduce odor by an average of 89%. Patient results and experiences may vary, as with any aesthetic treatment.