Dr. William Hedden Recognized for Patient Care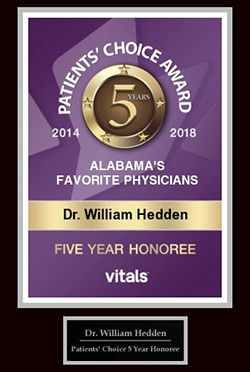 The ratings are in and Dr. William Hedden has been named a Patients' Choice Award 5-Year Honoree. This award honors doctors who provide excellent patient care and have received near perfect patient ratings on Vitals.com from millions of patients each year.
Vitals annually recognizes doctors who consistently receive top ratings from their patients. The ratings are analyzed and combined with other quality steps to name the physicians in communities across the country who are most admired by their patients.
"A high level of satisfaction for each patient is one the main goals of everyone at our practice," Dr. Hedden said. "It means so much to see this commitment reflected in feedback from patients who have had a positive experience and were treated with the respect and compassion they deserve."
The practice of Hedden & Gunn Plastic Surgery in Birmingham, Alabama features board certified plastic surgeons Dr. William Hedden and Dr. Stephen Gunn. Highly skilled in the latest procedures, our experienced plastic surgeons and staff look forward to helping you enhance and maintain your natural beauty.