CoolSculpting for Men
Chisel your look without surgery or downtime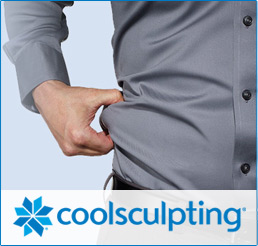 More men than ever these days are shaping up their look with laser hair removal, massage and other popular options for men at Spa Greystone. If your goal is a more contoured and confident look without having to deal with surgery or downtime, CoolSculpting non-invasive body contouring at Spa Greystone with can help you eliminate unwanted fat with proven, noticeable and lasting results.
Men tend to accumulate fat in several different places such as the abs, love handles and chest. You may feel that bulges of fat are detracting from the sculpted shape you've worked for. Stubborn fat in these areas can be very difficult to reduce with diet and exercise alone.
Freeze the Fat with CoolSculpting
CoolSculpting is proven to eliminate fat in eight treatment areas in all. Male fat freezing treatments often include problem areas such as the abdomen, flanks, back, chest and beneath the chin. FDA-cleared for nonsurgical fat reduction, CoolSculpting for men in Birmingham, Alabama is a safe and effective nonsurgical treatment for fat reduction.
Cryolipolysis is the key
CoolSculpting targets the fat that leaves you with bulges that just won't bulge. The proven technology known as cryolipolysis is a method of precisely controlled cooling that leaves the surrounding tissue unaffected. During the relaxing procedure, the fat cells are frozen (crystalized) while the surrounded tissues are not adversely affected.
The Alabama CoolSculpting Technicians at Spa Greystone will work with you to form a treatment plan designed to help you to achieve more defined body contours. More than 6 million CoolSculpting procedures have been performed, making it the world's #1 treatment for noninvasive fat reduction.